Easy Southwestern Chili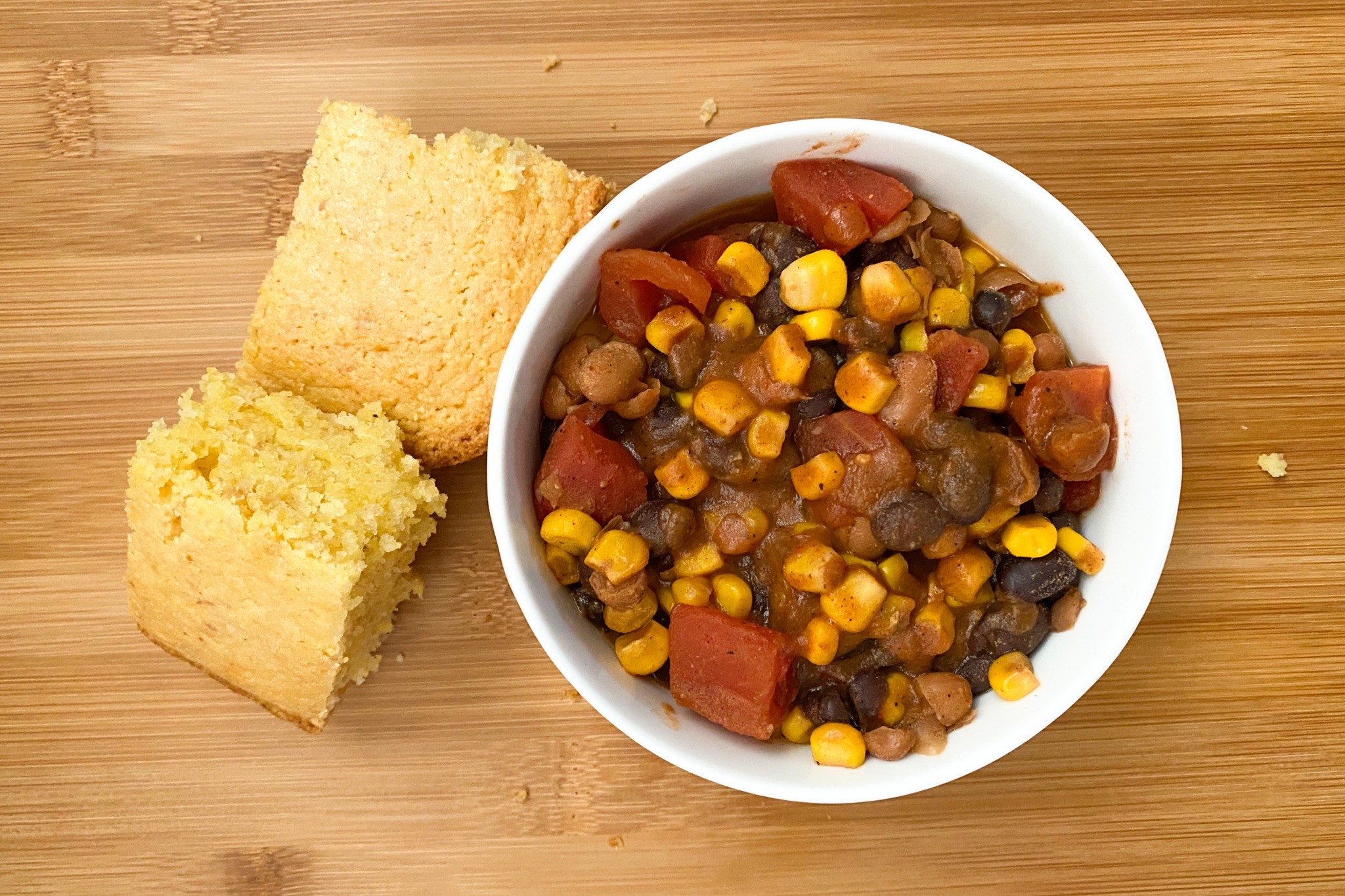 My southwestern chili is a perfect blend of savory with a hint of sweetness. And maybe the best thing about it is that it's super easy, fast, and all the ingredients are pantry staples!


Jump to Recipe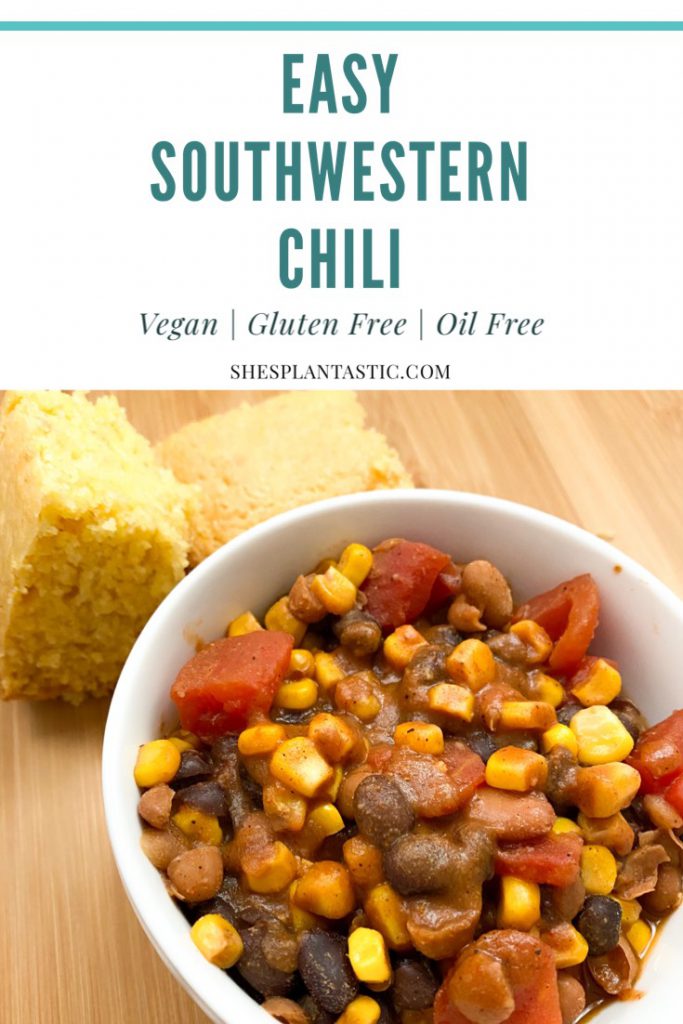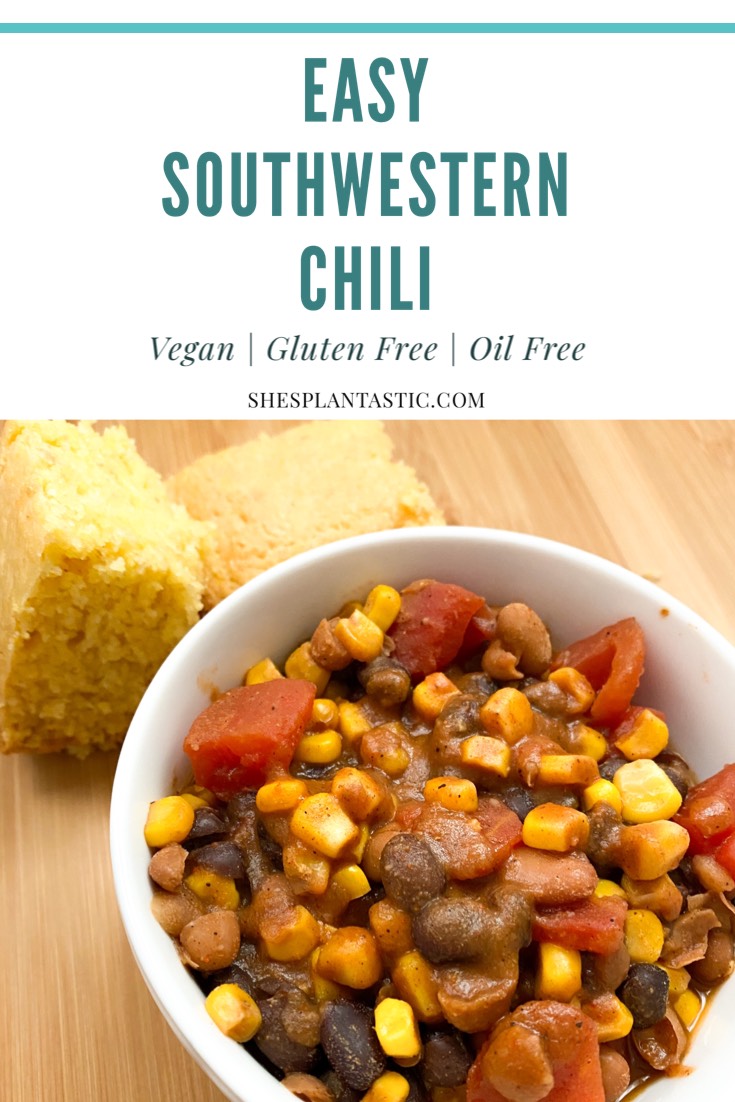 This recipe is naturally:

– Vegan
– Oil-Free
– Gluten-free
– Easy
– Budget-Friendly


A One-Pot Chili Wonder
I don't know about you, but there are some days where cooking dinner seems like another chore. Usually, when this happens, I might be tempted to eat something less healthy from the freezer or to get takeout. This chili takes all the thinking and preparation out of the equation!

Literally no chopping, no stress, and only one pot to wash! Just dump and heat!


Easy Versatility
Easy Southwestern Chili is a modified version of what my mom would make for my family growing up. We called it "pantry chili" because we'd just look around the pantry and pull cans of beans and vegetables that would be good in chili.

This recipe was born following the same process in my home now – wandering around my pantry and grabbing things that go in a chili! It's not the same chili every time, but that's what makes it great for those "I forgot to plan dinner and what am I going to feed these people AND my grocery pickup isn't until tomorrow" moments… Sorry, did that feel too soon?

I'll get you started with my Easy Southwestern Chili, and you'll see how easy it would be to modify and make your own version of pantry chili!


What Makes a Good Chili?
BEANS. They are the "meat" of a good whole food plant-based chili and the main source of protein. All types of beans are great and don't be afraid to mix and match them – they're all friends!

Another foundational element for a good chili is anything tomato-based. I always have a stock of diced tomatoes, so that is my go-to ingredient. Some other ideas are tomato sauce, tomato paste diluted a bit with vegetable broth, or chopped fresh tomatoes with the juices. But not all chilis have to be tomato-based. For example, check out my all-time favorite chili here for more inspiration!

After the beans and tomatoes are chosen, I use up any other vegetables I feel like. Some things that have made it into my pot are chopped onion, carrots, and green chilis. It's a great way to use up leftover produce!

The last principle for a fantastic chili is using spices! I am not an intuitive cook and love to follow a well-written recipe. Just nicely tell me what to do, you know? So I started small when experimenting with chili spices. I've learned that chili powder and ground cumin are key. And then after that, add a few other spices, tasting as you go until you get your desired result. For this Easy Southwestern Chili recipe, I think I achieved a perfect level of spice that wouldn't offend someone who doesn't like spicy food and that wouldn't condescend a Texan, like myself.


Some Tasty Add-Ons to Consider
This chili can stand alone, but here are some ideas to jazz it up a little:
– Avocado Slices
– Tortilla Chips
– Cornbread
– Corn Tortillas
– Nutritional Yeast
– Chopped Cilantro


How to Make Easy Southwestern Chili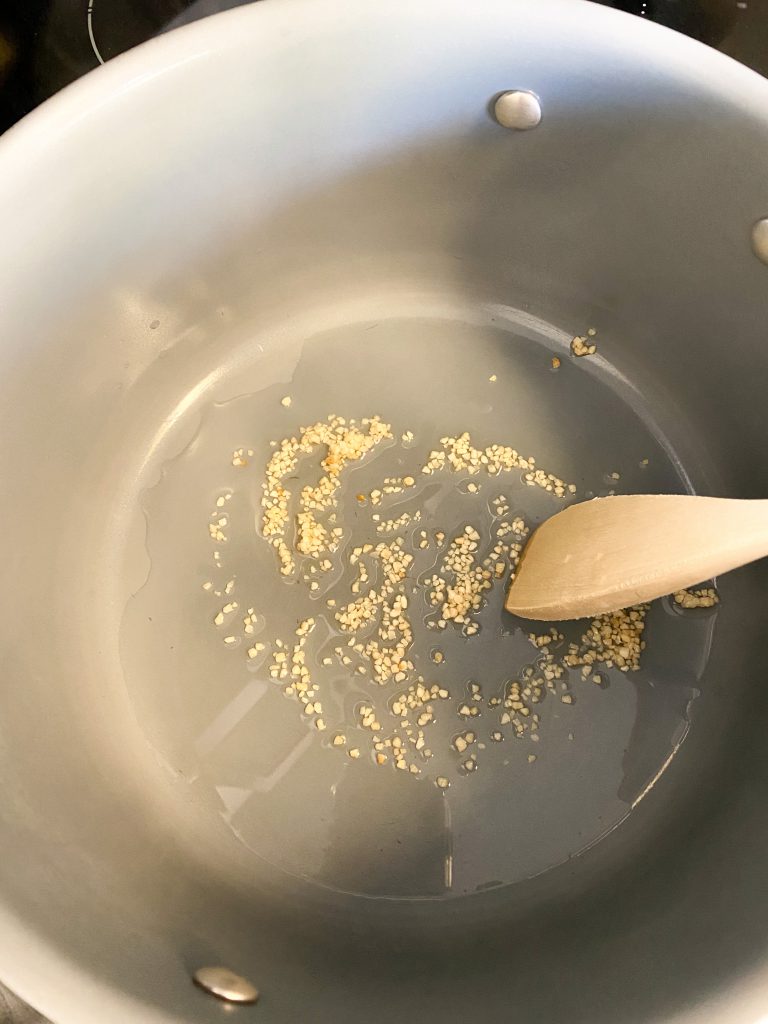 Heat 2 tablespoons of water over medium heat, then cook minced garlic until starting to become lightly golden and fragrant.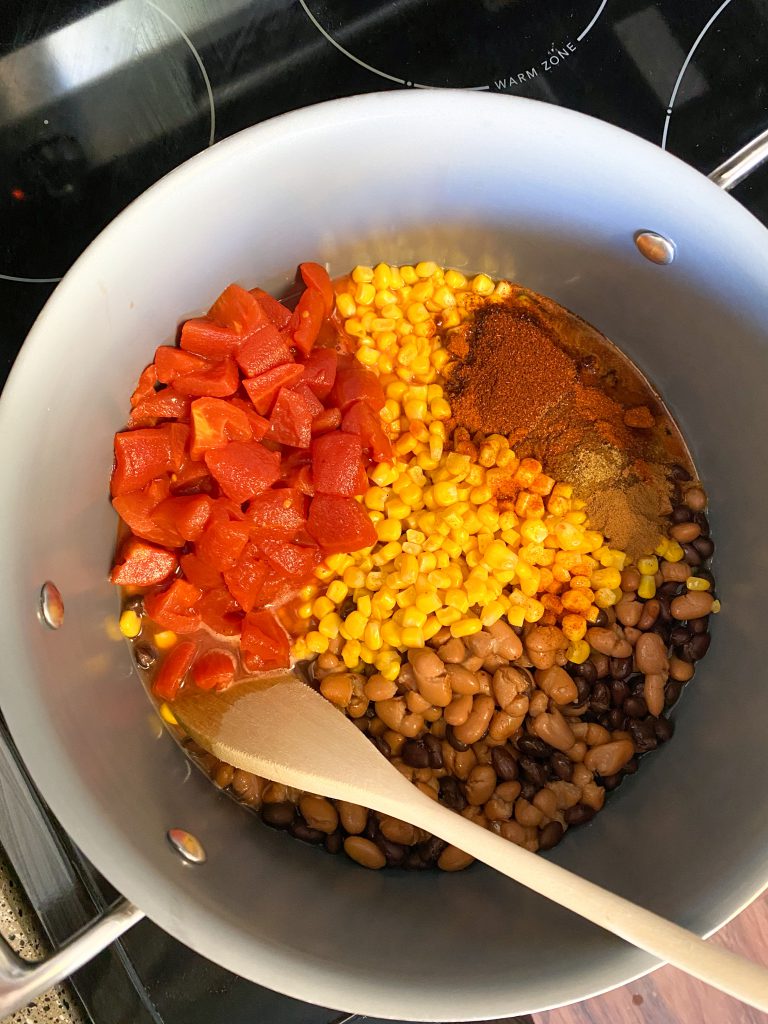 Combine beans, corn, diced tomatoes, spices, vegetable broth, and maple syrup in with the garlic. Stir and bring to a boil.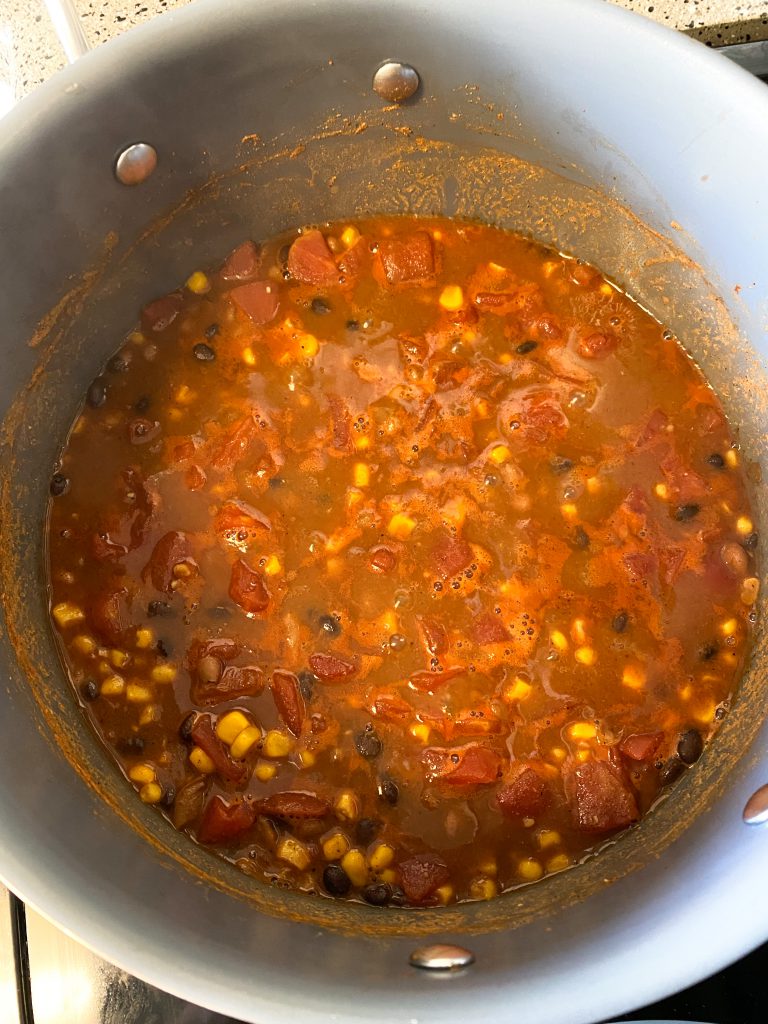 Simmer on medium-low for 15-20 minutes. You'll see it start to thicken up and become that yummy chili consistency!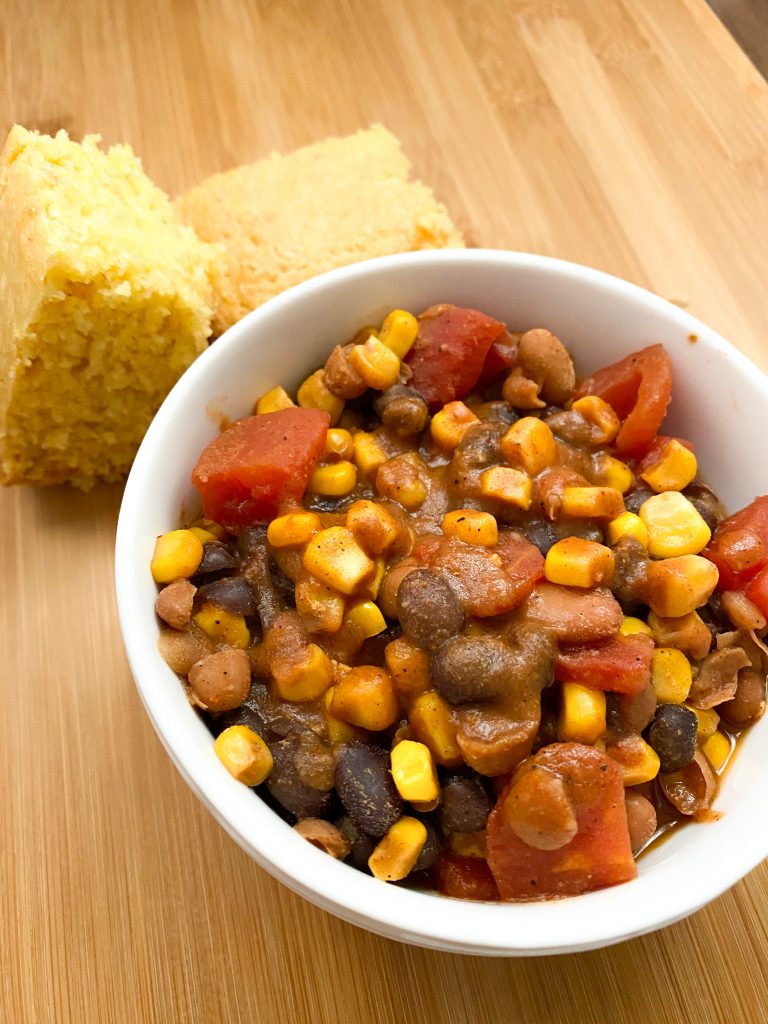 And, Voila! The easiest chili you've ever made. Grab the recipe down below! Pin it for later, and tag me on Instagram and Facebook if you make it, or if it inspired you to make your own version – @shesplantastic! I'd love to see what you create!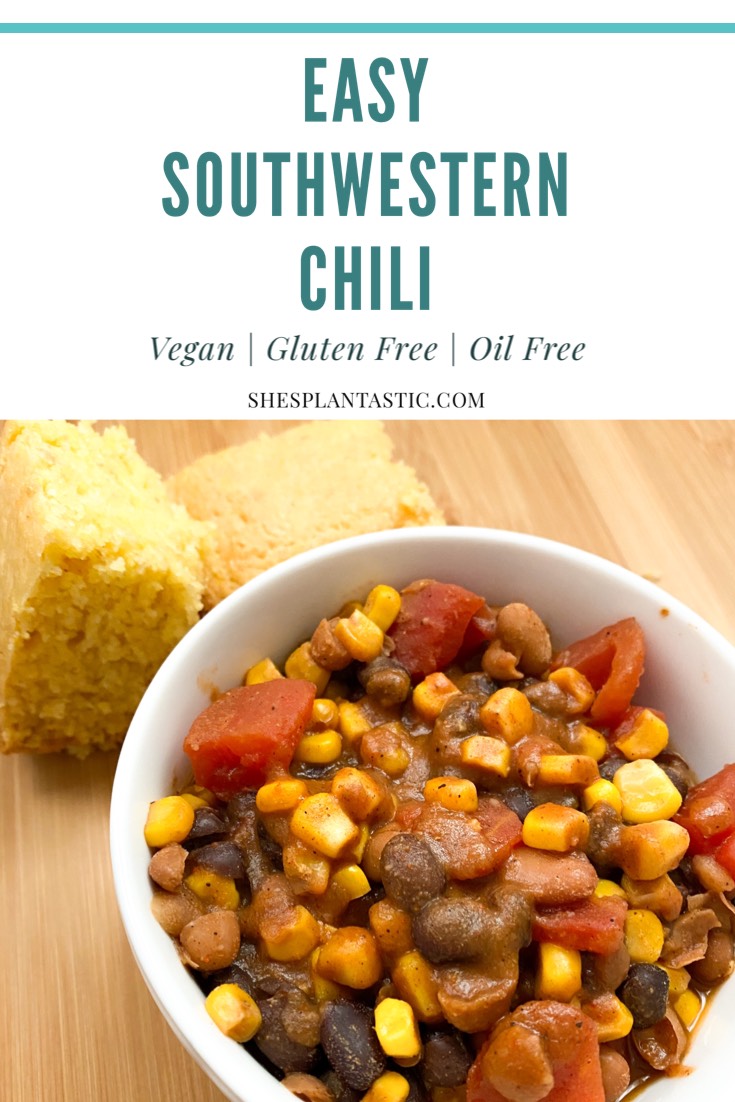 Easy Southwestern Chili
This easy, plant-based chili is a delicious one-pot wonder and is budget-friendly. Pair it with cornbread or tortilla chips for an effortless meal!
Ingredients
2

cloves

minced garlic

1

can

pinto beans, drained and rinsed

1

can

black beans, drained and rinsed

1

can

corn, drained

1

can

diced tomatoes, undrained

1

cup

vegetable broth

1

tbsp

maple syrup

1

tbsp

chili powder

2

tsp

cumin

½

tsp

smoked paprika

½

tsp

cinnamon

salt and pepper to taste
Instructions
Heat 2 tablespoons of water over medium heat.

Add minced garlic and cook until golden brown and fragrant. About 1 minute.

Add next 10 ingredients (through cinnamon). Combine and bring to a boil.

Simmer on medium-low heat for 15-20 minutes, or until desired thickness.

Salt and pepper to taste.
---
---